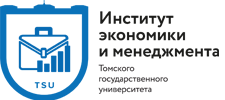 IEM students will undergo practical training at the enterprises-leaders of the market

The second and third year bachelors of the Institute of Economics and Management will have summer internships at enterprises and organizations - market leaders in Russia and Tomsk. Among them are partners of the institute: Sberbank PJSC, TomskNIPIneft, LAMA Group of Companies, Manotom JSC, Siberian Cellular LLC, Everest LLC, NP Finance Communications Information, TOKKO Appraisal Bureau, Eco-factory Siberian Cedar, and Association of Territorial Marketing.

Also, IEM traditionally collaborates with the administration and the Duma of Tomsk, the Election Commission of the Tomsk Region - several children will go to practice there as well.

Olga Misyutina, head of the IEM Career Center, who is responsible for organizing the internship, notes that such interaction is very useful for students and is an excellent chance to immerse themselves in professional activities, to understand all the necessary subtleties from her own experience, and get advice from experts.

In the group of the Career Center of the Institute of Economics and Management, you can find current vacancies of Tomsk enterprises for IEM students.