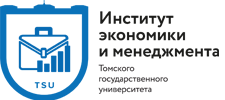 Marketing strategies and business solutions in international markets were the topics of a lecture for the IEM students
As part of the Business in a global context course, classes are held by Professor Roelfsema Hensem Jan of the University of Utrecht. According to students, this format of English-language lectures inspires and helps to look at the subject with a new perspective.
The course was attended by students of the Institute of Economics and Management. Following the results of the first lecture on international business strategies, the guys noted that the topic of marketing strategies is presented interestingly, the English language is very good for understanding.
- I liked the format of the lecture: the fact that it was held in the classroom, - Arslan Latipov, a TSU student, shares his impressions. - But it would be even better if the teacher was also in the classroom: direct contact is always more fruitful, often students hesitate to interrupt to ask a question. I am studying to be a business analyst, we have little management lessons in the program, so it was interesting to listen to a lecture on this topic. It was easy to understand the professor's pronunciation, maybe there were some features of the Dutch pronunciation, but everything is very simple and understandable. I would like such lectures to be held more often, some other teachers from different countries would speak. Maybe on the topic of economics, business.
- For me, this format - I'm in the audience, but the lecturer is online - was new, - says Natalya Bryanskaya. - I was inspired by this lecture, an English-speaking professor from another country. It was very comfortable to listen to the professor, the material is clear. And our teacher helped very well in the classroom: she focused on translating the moments that we should learn. It would be great if the lecturer came and gave us a lecture in person: we could talk to him and ask about something because there is no substitute for live contact.
The topic of the next lecture is Organization and Management of Subsidiaries in Foreign Markets. The lecturer is Roelfsema Hensem Jan, a member of the Board of Trustees of the IEM TSU, professor at Utrecht University, director of the Center for Entrepreneurship at the School of Economics at Utrecht University, chairman of the board of the Dutch fund World Entrepreneurship Week, chairman of the Dutch Center for Entrepreneurship.