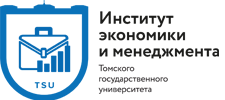 The IEM student won the All-Russian competition of scientific works of youth Economic Growth of Russia
Artem Rakhlevsky, a 3rd-year student of the IEM TSU became the winner of the 24 All-Russian competition of scientific works of youth Economic Growth of Russia, organized by the Free Economic Society of Russia and the International Union of Economists. The winner and his supervisor, Elena Chausova, Associate Professor of the Department of Information Technologies and Business Analytics of the IEM TSU will take part in the award ceremony.
Elena Chausova emphasizes that Artem himself proposed the topic of the research, he also did the bulk of the work on his own: "I only slightly helped and guided in terms of the choice of articles to study and what can be taken as a basis in his work. Everything was done at a decent level. He also offered to participate in the competition of scientific works. I supported the initiative".
Artem says that the work was done purposefully for the competition since this was one of the conditions for participation. He has been working on the topic Consequences of Mortgage Expansion as a Precondition for the Emergence of a Bubble in the Russian Housing Market since the fall of 2020. Interest in this topic was caused by participation in an international conference, one of the parts of which was the solution of a case on mortgage topics from one of the Russian banks.

The work that won first place in the competition is based on considering the prerequisites for modeling crises in the stock markets (in this case, the fund is a mortgage), these things have been well and long ago formulated and studied. But the author tried to transfer the material to Russian specifics.
Among the difficulties that he had to face, Artem notes the development of a research algorithm: there are many tools and approaches, it is impossible to apply them all at once. Secondly, most of these studies have been conducted by scientists from the mathematical and technical areas of science - in many ways it is not easy for an economics student to understand.