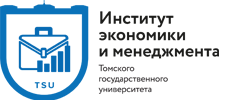 Group of IEM scientists will create the Institute of Digital Defender
The Institute of Digital Human Defender as New Element of Digital Society project received grant support from the Ministry of Science and Higher Education of Russian Federation as part of the Priority 2030 development program. The funding has already been granted until 2022.

IEM scientists note that the competition among grant projects was very tense.
Grant working group includes the professor of Department of Economics at IEM Marina Ryzhkova, IEM Deputy Director for Research Mikhail Chikov, Head of the Department of State and Municipal Management at IEM Svetlana Martynova, TSU graduate student Garnik Tumanyan, IEM student Alexander Ananyev.
"Priority 2030 grant program supports several areas," tells Marina Ryzhkova, project manager, "Our application has won in the area called Socio-humanistic Engineering: Human and Social Research and Design, or simply New Social Humanism. The work on the grant project is directly linked with the activities of new science laboratory created in the TSU last December. Since there is no concrete topics and achievements in the laboratory as of now, this project will allow us to make a good start. Participating in the TSU January strategic session allowed us to identify our place in regards to university projects.

The grant application was submitted as part of activities of TSU's Laboratory of Human Psychological and Financial Security in the Digital World. The laboratory was founded in December, 2021. It's staff members includes economists, psychologists, lawyers, philologists – 10 people in total.

"The foundation of this laboratory is an attempt of scientific community to meet the contemporary human and social challenges." explains Mikhail Chikov. "Human in the digital age is subject to many negative influences – thus, the question of a human's psychological and financial security arises. We also have a clear demand from business, from financial markets: in the recent years, they encounter a critically high level of fraud; there are financial, reputational, and other losses. Modern fraudsters actively use manipulation and social engineering techniques. These "specialists" are quite tech-savvy, they are very well-versed in modern achievements of psychology, financial science, and are being very proactive.

According to Mikhail: "banks and different organizations develop their own protection technologies. There is a constant "competition" between them and fraudsters: who will win. However, even most advanced organizations only have localized protection technologies. As scientists, we also should join this conflict and propose our own, more sophisticated arsenal of Socio-humanistic technologies. Legislation today is not yet ready for such a large-scale and complex conflict, there is a big blank space. By the way, even people who are very much financially literate can often fall for a fraud, that could even be a finance professor! That's how the psychological manipulation methods work. This is why there is the need to develop a large-scale interdisciplinary protection system and to operate with a person in mind, to give them effective tools."
The representatives of the Association for Development of Financial Literacy approached the IEM scientists with the following enquiry: could the scientific community provide a new social engineering technologies designed to combat the fraudsters – humanitarian technologies that would increase a person's security on financial markets, ensure his mental health.

"The interdisciplinarity of this laboratory is critically important," Mikhail Chikov continues. "Only in this way it is possible to look for effective solutions of the tasks at hand. The work on the grant will become a productive beginning of the laboratory's work. The "Institute of Digital Defender…" grant project is a sophisticated concept: a system of rules and technologies that increase a person's security in a digital environment. To better understand it, let's imagine a situation when you walk along the street and approach a busy road. Your conscience automatically tells you that this is a place of heightened danger, and to be safe you need to abide by the traffic rules. One of the goals of the Institute of Digital Defender is exactly the development of such "traffic rules" in a digital environment: how to not fall victim of a fraudster, how to protect yourself when they start to interact with you, what are the guidelines for talking on the phone, chatting in social media, via e-mail, etc. We also need to note that it is not simply a list of guidelines, but an attempt to consolidate them on a deeper, behavioral level of a person.
The active work on the project will begin in the coming days. The goal of the study is defined as "development of constituent foundations of Institute of Digital Defender as a new public good and necessary element of personal security in new societal structures of the digital economy." The scientific community is planning to develop a number of rules, recommendations and technologies on how to act in a situation of digital hazard. The technologies might be collective or individual. They may be implemented as a part of software products, educational technologies for education institutions.

The project should not take place only this year: this is a large-scale research that has significance for the modern society as a whole. Among the final products of the work on the grant, it is essential to develop exact guidelines for users.