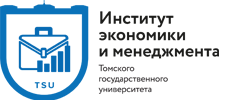 IEM students defended business projects in English
IEM TSU students, studying on the Business and Management undergraduate program of the London School of Economics and Political Science, defended business projects under the Entrepreneurship course. The defense was held in English. The guys dedicated their projects to solving various problems: creating a community for the development of equestrian sports in Tomsk, opening a bakery, which provides an opportunity to choose healthy and eco-friendly food for both tourists and locals, in China.
- As part of the course, students had to offer a model for solving a real problem in the form of a project,- says lecturer Elena Rozhdestvenskaya, manager of the IEM TSU Center for Entrepreneurship , associate professor at the Department of Strategic Management and Marketing. - Next, we discuss it in English and ask questions.
A group of three students: Olga Tyutyusheva, Artemy Fedotov, and Elizaveta Zagoskina have presented a project about the equestrian club in Tomsk:
- I proposed this project because I am very passionate about equestrian sports,- says Olga Tyutyusheva. - In our city, the situation with the development of this sport is poor, there was only one equestrian club Jockey, which held the competition. It was recently closed, and today there are no decent places left in Tomsk to participate in events, as well as maintain horses - the stables are not properly equipped, animals freeze in winter. Therefore, our project is about creating a new equestrian club.
Artemy Fedotov added that the group also figured out how to bring the project to profitability. The idea is to sell club membership with different levels of privileges:
- I found a similar model in Yorkshire, where there is an equestrian club. Although there is a small city, but thanks to the community they have achieved serious success. We want to do something similar and to increase the concentration of the equestrian community in Tomsk, - explains Artemy Fedotov.
- We conducted surveys and asked both amateurs and professionals. It turned out that people are ready to invest their money so that it all works in Tomsk, someone could take care of horses, and develop equestrian sport. - notes Olga.
Another group of students offered to open a bakery in China in order to diversify the choice of food for tourists and local residents. In their opinion, a wide selection of home-made pastries made from natural ingredients brought from Russia will create an alternative to spicy and not suitable for everyone Asian food.