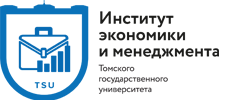 International Management Program undergraduates participate in seminars with experts online
On November 2, an online meeting of the director of the Tomsk Export Support Center, Alexander Belyaev, with students of the second year of master's studies of the International Management program as part of the course Promotion to Foreign Markets (Asia-Pacific Region) took place.
During the meeting, students learned about the main areas of the center's work, measures of state support for Tomsk exporters when entering international markets, inspiring success stories of Tomsk exporting companies. The event participants were able to ask their questions and receive preliminary consultations on the opportunities and prospects for collaboration, passing production, and pre-diploma practice at the Tomsk Export Support Center.
Also, on Monday, first-year undergraduate students of the International Management program spoke online with experts on the Global Business Strategies course, organized by Irina Pavlova, Ph.D. Associate Professor and Jean-Paul Larson, Honored Professor of the Paris Graduate School of Commerce. This time, undergraduates worked with a case dedicated to Huawei, trying to answer the question of whether it could survive under pressure from US sanctions? To prepare their presentations and speeches, students were able to use not only the educational materials but also the recently published articles of Mr. Larson, which he provided to our students.
The participant of the session discussed why the US administration considers Huawei a serious threat? How can US sanctions affect the international strategies of Chinese high-tech companies? What are the strategic alternatives to Huawei in the production of high-tech goods and services? How can Huawei expand its presence in global markets in modern conditions? At the end of the discussion, Jean-Paul Larson stressed the importance of teamwork of students from different countries, noting that such cooperation enriches the experience of interaction of all participants in the seminar.