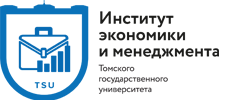 "Start from TSU and United Tomsk University, continue on for all Tomsk citizens": IEM Bachelor won a grant for creating Go club
The Tomsk State University became one of the winners of the "Rosmolodezh. Grants" All-Russian youth projects contest. Among the 5 winners is the project of the undergraduate student of the Institute of Economics and Management Semyon Poskannoion creation of strategy game Go club. Go is one of the most popular board games in the world. Semyon notes that the grant gives additional opportunities to realize what he was planning for a long time – a Go club for all Tomsk citizens.
Semyon Poskannoi is IEM Bachelor majoring in Entrepreneurship and Project Management - Captains program. Go, which is a compulsory element of the program, has already became a part of his life. He is the leader of a Go club in the Institute of Economics and Management, there he teaches beginner players the basics of the game, organizes tournaments in the IEM, represents Tomsk on all-Russian competitions (during the last contest Semyon took third place out of 220 participants from all over the country!)
The project will receive a funding of 250 thousand rubles. These funds will be used to purchase game kits and to conduct tournaments. This can be considered another important step towards creating the Go club not just for students, but for all Tomsk citizens.
The first step in creating the club was to form a Go staff at our institute," Semyon tells. "We found people who are fond of this game and want to develop it. Now, the second step is the grant. In general, now we have everything to accomplish what we have been planning. The groups will be formed on the TSU level, then, when they become experienced enough, we will move on to the level of United Tomsk University. The key participants, of course, would be the students. When their level of play is professional enough, we will organize a big tournament for the whole Tomsk. The tournaments will be official and ranked. In addition, we plan to organize master classes, prepare playbooks for self-study of the game. During summer and autumn we will hold some events on the matter.

We remind that Go is a logical board game that originates in Ancient China. The word Go means "to surround with stones". Go is played on a rectangular field called goban. One player receives black stones, the other receives white ones. The aim of the game is to fence off more territory on the game board with stones of your color than your opponent.
The game develops strategic thinking, attention focus: these qualities are important for a successful businessman in particular. It is precisely because of this that the game is a mandatory module in the Entrepreneurship and Project Management – Captains that is taught at IEM TSU.