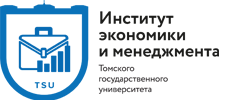 The IEM Press Service won "Press Service 2022" award in the "Press Tribe" competition
The Tomsk Regional Department of the Union of Journalists of Russia summarized the results of XIX Annual Journalist Competition "Press Tribe 2022". In the "Press Service of the Year" category the Press Service of IEM won the first place.
Press Services of Tomsk city administration and play park "Quantorium" were also presented in the nomination.

The IEM Press Service was established in 2016 when the resources of the Faculty of Economics, Graduate School of Business and International School of Management were combined together. Its head – a journalist, Cand. Sc., Anna Yaroslavtceva, the deputy is a journalist Ekaterina Krivolapova.

This year the Press Service realized an ambitious project of IEM's 5 Years Anniversary, where besides a concert, a TEDx Conference took place where some inspirational ideas were shared by famous economists and managers. Also the award "Serving IEM" has been established and granted the first time for the students, graduates and professors.

This year is a special one for the Press service – the anniversary year. So we decided not to just organize a concert, but to carry out TEDx Conference with the graduates. We offered the Tomsk Duma Speaker Chingiz Akataev to tell about particularities of management of a complex corporate body, and the chairman of Sibagro company told how to organize a nationwide business. The event was very interesting, Anna Yaroslavtceva says.

IEM is a huge establishment there are more than 1000 students and 70 professors. There are always some interesting newsworthy events i.e. professor's grants for digital security or bright startups by the students, Ekaterina Krivolapova adds.

The Press Service regularly covers the activity of the IEM, telling about the important researches of the scientists, new initiatives and victories of the IEM workers and entrepreneurial projects of the students.