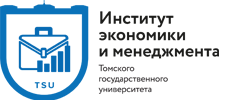 "We invite everyone!": IEM Director Evgeniya Nekhoda on the upcoming anniversary and IEM main achievements in 5 years
Directorof the Institute of Economics and Management Evgeniya Nekhoda in the video interview held in anticipation of the 5th anniversary of IEM told about what was achieved by consolidating the resources of economics and management education, what are the main achievements of IEM in 5 years, and what surprises the guests of celebrations that will be held on May 20 should expect.
The interview can be viewed on the IEM YouTube channel.
https://youtu.be/bV24QpsTqAw
We remind that on May 20, the IEM Day will be held: the Institute of Economics and Management of TSU will celebrate 5 years since its foundation. In TSU Culture Center at 18:00, a celebratory concert and a TEDx talks-style conference will be conducted – IEM faculties alumni – famous managers and businessmen of Tomsk – will share their unique experiences and new ideas. Entrance is free.
During TEDx, the Chairman of the Board of Sibagro Andrey Tutushev will tell about how to build business throughout the country, the Tomsk City Duma speaker Chingis Akatayev will share life-hacks on how to effectively manage complex teams. The Palex company founder Pavel Koshak will explain how to effectively manage overseas branches while having head office in Tomsk, and the head of BCS-Premier, Tomsk branch Vladislav Alekseevskiy will answer the question, why do more if you can do less? The owner of Tsvetayeva flower shop Natalia Alin will tell about the art of delegating, and the head of the Economics Department of IEM, head of the TOKKO evaluation bureau Dmitriy Khloptsov will speak on the relevant topic: how to always be on time when you have 4 children and 2 jobs?
The evening will continue with a celebratory concert featuring creative performances from the Institute's students and alumni and presentation of the "Serving the IEM" award to the best undergraduate and postgraduate students, lecturers and alumni.
We invite the alumni, students, lecturers, friends and partners to join the 20 May celebrations!