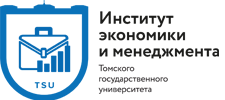 ---
---
THE PRELIMINARY PROGRAM OF THE INSTITUTIONAL TRANSFORMATION OF ECONOMY: INDIVIDUAL AND SOCIETYINTERNATIONAL CONFERENCEIS OUT

Institutional Transformation of Economy: Individual and Society,one of the most reputable international conferenceson economics,will be held between 21 and 23 October 2021 in the Institute of Economicsand Management. The conference gathers leading Russian and international economists, historians, political and social scientists. Please find below the preliminary program of the conference.
Leading institutional research specialists haveconfirmed that they will be participating in the conference. There will be more than 200 participants, about a hundred of whomwill be there in person. Also participating in the conference will be scientists and experts from France, Norway, Sweden, USA, Great Britain, Italy, Belorussia and Ukraine.
Attached below is a PDF file with the preliminary program.

---
---
---
---
---
---
---
---
---
---
---