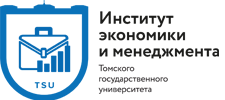 Tomsk State University is the founder of higher economic education in Siberia. In 1898, the Department of Political Economy and Statistics was opened. Since then, the economic education at TSU has passed a large and dynamic path of development.
On September 1, 2016, the Institute of Economics and Management (IEM) was opened at TSU. It combines the resources of three faculties: Faculty of Economics, International Faculty of Management, the Higher School of Business, and several departments of the university.
A special feature of training at the IEM is collaboration with corporate partners - companies and banks, many of which are members of the Board of Trustees of the Institute. Corporate partners participate in the development of educational programs and the educational process, provide places for internships and employment, participate in joint events with the Institute - conferences, business schools, competitions, and master classes, and establish personal scholarships for students.
The main tasks of the Institute of Economics and Management are the creation of a unique environment for teaching economists, managers, and entrepreneurs able to ensure the withdrawal of technological innovations to the global market, for the training who will able to transform the business and increase its competitiveness in existing and new markets.
IEM provides training in 6 Bachelor's programs, 8 Master's programs, and a specialist program. Here you can also get additional education: to improve your qualifications or to pass professional retraining on topical business programs.