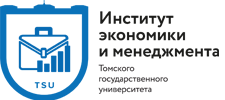 SIBAGRO Company allocates 5 grants for training IEM students. Applications are accepted until April 18
Students of the 1st, 2nd, and 3rd courses of the TSU Institute of Economics and Management, studying in Economics and Management, can receive grants from the Sibagro company. Five such grants will be allocated, they will fully compensate for the costs of training under the joint parallel training program Business and Management of TSU and the University of London.
The grant program is aimed at those who are interested in expanding their professional opportunities, including English and personal growth and have decided to study under the parallel training program Business and Management. One of the conditions for grant support is, among other things, the execution of an agreement on targeted training at the expense of the company, according to which the grant recipient is obliged to work in the company in the specialty received for at least 3 years.
The bachelor's program in Business and Management at Tomsk State University and the University of London is the only student training system in Siberia that combines the educational competencies of TSU, on the one hand, and an elite training strategy at the London School of Economics and Political Science, University of London, on the other.
Natalia Cherepanova, Associate Professor of the Department of Organizational Behavior and Personnel Management of the IEM, emphasizes that the University of London offers a practice-oriented approach to knowledge acquisition, with an emphasis on the specifics of international business management.
- From the first day, students immerse themselves in the practice of large international companies, face the challenges of modern international management and learn to find opportunities in crises. Preparation is carried out exclusively in English, which allows for three years of study to bring the knowledge of the language to the level of a native speaker. As a result - the broadest career opportunities, - adds Natalia Cherepanova. - In addition, training in the Business and Management program is not only unconditional advantages and a challenge for determination, but also new friends during summer schools at the University of London, and graduation in London with the presentation of a diploma by the university leadership.

Grants are awarded on a competitive basis. The deadline for submitting applications for participation in the competitive selection is May 25.
Competitive selection stages:
English proficiency test

Interview with the program manager in English

Analysis of candidate profiles and motivation letters

Interview with the HR specialist of the company

Testing to assess the personal qualities of candidates

Interview with the HR director of the holding
Details can be found by email dpo.iem@mail.tsu.ru