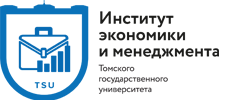 15 leading employees of LLC Tomskneftekhim have completed training at the TSU Institute of Economics and Management
The training of 15 Tomskneftekhim LLC (Sibur)leading employees and 5 employer-sponsored students was held at the Institute of Economics and Management under the advanced training program Production System Lean Production (program size 72 hours).
The advanced training program was developed by the order of Tomskneftekhim LLC with the aim to form professional competencies necessary to implement a lean production system and develop lean thinking, understand the processes of building a modern lean enterprise, and master the practical skills of implementing lean manufacturing in an organization.
- The organization of the educational process helps to master the theoretical foundations of the operational management of companies, lean production, change management in a lean enterprise, and apply this knowledge to optimize business processes, design value chains and isolate overhead costs, and implement the necessary changes to implement the Lean principles, - says Irada Magaeva the director of the office of executive programs, the MBA of the Institute of Economics and Management. - To implement the program, we choose a highly professional team of IEM teachers trained in Japan under the program The Universal Toyota Production System.
The program includes the study of four modules: modern management technologies, the fundamentals of lean manufacturing, methods and tools for transforming an organization into lean manufacturing, and change management.
- With the TSU program, we wanted to raise the level of theoretical knowledge of our employees, because they already have practical knowledge: we have implemented lean production in our enterprise for more than 8 years. This knowledge will be needed by trained specialists for a deeper understanding of existing processes and their improvement in the aspect of improving the system, stressed Elena Zhukova, head of the HR department at Tomskneftekhim LLC.
Currently, TSU is actively collaborating with Sibur company, it means not only the joint projects on the implementation of research and development but also training and retraining programs in various areas, including management.