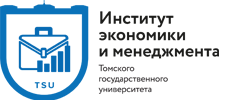 Tomsk State University Institute of Economics and Management:
Training of socially conscious leaders for organizations, companies, local and international communities
Global network of partnerships with leading economics and management schools, Russian and foreign companies
Board of Trustees made up of high-profile scholars successful business owners
Comfortable educational and social environment and a variety of opportunities
Modern educational infrastructure (on May 19, 2017, a new building was opened at Naberezhnaya Reki Ushaiki, 12)
---
HISTORY
Tomsk State University is the cradle of higher economic education in Siberia. In 1898, the Department of Political Economy and Statistics was opened. The originators of economic education in Tomsk are distinguished professors M. Reisner, M. Sobolev, P. Lyashchenko.
Since then, economic education at TSU has undergone a long and dynamic process of development: lecturers' qualifications, educational resources and facilities were being improved; scientific fields were being developed; scientific and academic relations were being expanded; study programs were being adapted to fit the changing environment in the field and meet the demands of the labor market.
The Economics Department was established in 1955, and in 1963 it was reorganized into a separate faculty. S. Lukichev was appointed the first Dean of the Faculty of Economics. From 1989 to 2016 The Faculty of Economics was headed by Z. Sakharova.
The history of the International Faculty of Management (IFM) began in 1992, when a Russian-American college was established at TSU under an agreement with Ohio University (USA) as part of the Education and Business in Siberia program. In 1998, it became a faculty (IFM). F. Tarasenko was its founder and first dean.
The Higher School of Business (HSB) was opened in 1991, and in 1992 it became part of the Russian Association of Business Education. In 25 years, it has become one of the chief business education institutions in TSU. V. Gaga was its founder and first head.
The Higher School of Business and the International Faculty of Management marked the beginning of management and business education at TSU, as well as the beginning of international cooperation and internationalization for the university.
TODAY
In September 2016, the Institute of Economics and Management (IEM) was established at Tomsk State University. With active expert support of Sberbank Corporate University, it combined and consolidated the resources of three strong faculties: the Faculty of Economics, the International Faculty of Management and the Higher School of Business. V. Dyomin, who now holds the position of the University's first Vice-Rector, was the first Director of the Institute.
A notable feature of the education process at the Institute is cooperation with corporate partners – companies and banks, many of which are represented in the Board of guardians. Corporate partners participate in the development of study programs and take part in the education process, provide internship and employment opportunities for the students, participate in joint events, such as conferences, exhibitions, competitions and master classes, establish student scholarships.
The IEM offers the following degree programs:
BACHELOR'S DEGREE PROGRAMS:
Financial Economics
Business Analytics
Management (three training programs: Business Management, State and Municipal Management, Human Resources Management)
Entrepreneurship and Project Management (the "Captains" program)
SPECIALIST DEGREE PROGRAM:

MASTER'S DEGREE PROGRAMS:
Economics (two training programs: Economics of Innovation and Development, Business Analytics)
Management
International Management (taught in English and Chinese)
State and Municipal Management
Strategic Human Resources Management
Finance and Accounting in Organizations (accredited by the Association of Chartered Certified Accountants (ACCA))

DOCTORAL DEGREE PROGRAM:
Economics (including a Ph.D. program taught in English)
Additionally, there are possibilities for further education at the Institute of Economics and Management: you can sign up for professional development courses, as well as professional retraining business programs.