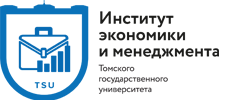 An IEM graduate assisted in preventing corruption
Maria Matveeva, a graduate of the Institute of Economics and Management, devoted her scientific work to improving the effectiveness of anti-corruption mechanisms in government. This study helped the Department of Hunting and Fisheries of the Tomsk Region, in which Maria Matveeva works, to take first place in the ranking of effectiveness in prevention of corruption offenses among regional departments in 2019.
- We identified problem points, developed methodological materials, introduced anti-corruption indicators in the bonus system, prepared reporting, and much more, - says Maria Matveeva.
Lectures and preventive conversations with staff, advanced training courses, the introduction of an electronic form of service delivery - these and other steps proposed in the dissertation helped the department to take the leading position in the ranking.
Tatyana Mineeva, Maria Matveeva's supervisor of studies, noted that the recommendations for improving anti-corruption mechanisms were developed based on studying consumers' opinions of public services in fisheries and hunting. The recommendations can be used in developing plans for counteraction by state authorities that exercise control and oversight powers.
This example of a graduate student proves that the research done during the writing of a final work can be applied in practice and extremely useful in the professional arena and can change the life of the city and region for the better.