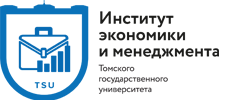 Applications for the IEM's online school on international management and marketing were submitted by 200 people
On January 16 the third Winter Online School on international management in English will be started at the Institute of Economics and Management of Tomsk State University. Applications for participation in the School were sent by 211 people – an unprecedented number compared to 2022 and 2021. The School program includes solving practical cases, working in international teams, master classes held by international experts and lecturers of the International Management master's program.
The online school is conducted for everyone who wants to learn more about global business, business communications, modern opportunities for entrepreneurship, and current social and economic challenges. Participants will also be able to improve their English while communicating with native speakers. This year's topics of the School have been brought up to date to meet the new challenges of management.
The IEM Winter School from the beginning was planned in an online format: firstly, because of the pandemic, and secondly, because of the possibility to involve listeners and famous speakers from other cities and countries.
"Despite the fact that the fee for participation in the Winter School always was low, this year the organizers decided to shorten the program to 5 days and make it free. The interest in the Winter School – 2023 program was beyond all expectations. This year we enrolled 211 participants, all coming from various places. It's possible that, apart from professional opportunities, we were helped by the fact that the School itself is already quite well-known internationally," says
Olga Nedospasova
, Head of the International Management master's program and of the Department of Organizational Behavior and Human Resources Management at the TSU.
Among those who will take part in the Winter School are the TSU students not only from IEM, but also from other faculties and institutes. All of them have a good command of English. Universities from Tyumen, Pskov, and Yekaterinburg have also shown interest in the School. There are participants from TSU's partner universities, such as Samarkand State University, Jilin University along with other Chinese universities, as well as universities from Kazakhstan, African countries (Egypt, Ecuador, Nigeria, Uganda, Ghana, Sierra Leone, Rwanda, Somali, Tunisia, Ethiopia), Central and South-East Asia (India, Indonesia, Turkey, Myanmar, Afghanistan, Yemen, Pakistan, Bangladesh, Iran, Syria, Jordan), and Latin America (Peru).
The School's program is designed to attract the attention of potential applicants to the IEM International Management master's program, which is taught in English and partially in Chinese. For example, after the first Winter School, Zheng Huai from China enrolled in this program. Now he is a second-year IEM master's student.
"Winter School – 2021 was the first time I spoke English in public. Before that, I had never used English to communicate with anyone. The School gave me more confidence in my knowledge of English, and the courage to continue speaking English in public in the future. Now I am confident enough to say that my English is good," says
Zheng Huai, a master's student at IEM TSU.
Speakers at the school were leading IEM lecturers and experts from other departments of TSU and universities: Peter Mitchell, Acting Head of the TSU Department of Translation and Language Communication, Head of the Global Master's in ELT Leadership international master's program,
Artyom Dankov
, Director of the Institute of Confucius at TSU,
Sandeep Sharma
, Swiss School of Applied Sciences for Economics and Management,
Andrey Panibratov
, Graduate School of Management of St. Petersburg University, and
Antonina Malankhanova
, the Russian-Chinese Chamber on assistance for trade of technical and innovation products. In addition, the organizers invited
Vasily Potemkin
, Deputy Governor of the Tomsk Oblast on investments, and
Alexey Stukanov
, Head of the Region Department for International and Regional Relations, to make a speech at the key event of the Winter School – the international round table.
The participants of the Winter School – 2023 shared their expectations and plans.
"For me, it has always been important to have several opinions about a particular issue to make decisions, and it is especially important for me as a future HR-specialist. Because of this, I think the Winter School is an opportunity to interact with professionals and students from different fields, with different experiences and perspectives on global opportunities in today's world. And, of course, it is a wonderful chance for international communication," said
Elina Shavaleeva
, a student of IEM TSU.
"I applied for the program because I am interested in marketing and sales. In the future, I would like to open my own business, so I hope to learn a lot of useful things from the program," added
Andrey Ivanov
, a student of the Faculty of Finance, TSU.
Participants from other countries also sent their comments before the start of the Winter School.
"I have plans to enter the International Management master's program at TSU, to use the opportunities of the Russian educational system effectively, and I hope to get a scholarship for that. I hope that the educational content of the Winter school will be useful for my scientific career and will give me new information for my research. The Winter School was recommended to me by my lecturer from the University of Jakarta," said
Zaki Adi Saputra
, a student from Indonesia.
"I believe that the Winter School of the IEM TSU will create new career opportunities for all students in education and business life," said
Ahmed Boz
(Turkey).
All participants of the school will receive a certificate of participation which guarantees additional points when applying for the International Management master's program at IEM TSU.