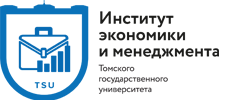 Both economists and humanities scholars are showing interest in the International Management, new IEM Master's program
IEM had the presentation of International Management - the new Master's program, implemented in English. The program manager, Natalya Chistyakova, said that students of various specialties can enroll in the program, that there are budget places and that it is real to enroll here today.
The new program International Management should become one of the flagships at the Institute because it implies a close combination of theory and practice, access to the international arena: students will go on internships abroad, part of the
courses
will be taught by teachers from European universities.
The program is managed by the International Council, which includes representatives of universities and large international companies.
The program includes 4 basic blocks: finance, economics, personnel management, and management. All of them are considered precisely in the international aspect. The program involves European partners - universities and corporations. It is also planned to strengthen the Asia-Pacific track, which today is very promising in economic terms.
The first two semesters are supposed to be actively immersed in the basic disciplines of the main educational units, the third semester implies training in international exchange, the fourth - training in companies and writing a master's thesis.
-The important point is that we have a so-called pre-module, basic introductory courses in economics and finance before the basic training begins, says Natalia Chistyakova. - It is important for students of non-economic specialties.
There is another important point for those who are considering admission to the program. The program opens wide opportunities for work in international large companies and corporations. Partners of the program are such companies as IBM, PwC, EY, Sberbank, and Unilever. Students at the training stage may already have an internship in other companies operating in international markets. In any case, this specialization significantly expands career horizons.