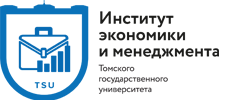 Design thinking and risk management: the IEM library is replenished with new books
During his visit to TSU, Valery Katkalo, Rector of Sberbank Corporate University presented the library of the Institute of Economics and Management with books on economics and management, published in Sberbank, and also gave an open lecture to students and teachers about modern managerial competencies.
- We are very interested in the success of reforming economic and managerial education in Tomsk State University, primarily because TSU today is one of the leaders and the best case studies in the country on the transformation of universities, - said Valery Katkalo. - This is a very difficult task. And if you try to connect the unconnected things - the scale, traditions, potential of the university and the new challenges that exist today - it will be just a huge step to the 21st century!
The corporate university of Sberbank has a program under which books on management, finance, and economics are published and transferred to leading universities in Russia. Two series of books are produced: translated world bestsellers (81 volumes have already been published), among them, Big Data for Dummies, Blockchain: Blueprint for a New Economy, books on financial topics, and also on HR — how to select the best for your company. Another part of books are casebooks, textbooks on design thinking, risk management, and the Corporate Training for the Digital Age vocabulary with 270 modern terms on what is gamification, virtual reality, and microteaching. Recently, a new part of books was launched at the request of the business - reference books on the basics of the power industry and chemistry. As Valery Katkalo noted, "when you credit these companies, you must understand how they work".
- I hope you will find this interesting too. I can make a commitment that we will publish even more, - said Valery Katkalo.
- We already have several books of the Sberbank Corporate University at the Institute of Economics and Management, they are very popular. We are very grateful that you continue to replenish our library! - emphasized Victor Dyomin, the director of IEM.
The list of donated books:
Big Data for Dummies - Judith S. Hurwitz, Alan Nugent, Fern Halper, and Marcia Kaufman
Blockchain: Blueprint for a New Economy - Melanie Swan
Agile Project Management for Dummies - Mark C. Layton
Huawei: Leadership, Culture, and Connectivity - David De Cremer, Tian Tao, and Wu Chunbo
Look inside yourself - Chad-Men Tang
Tribal Leadership: Leveraging Natural Groups to Build a Thriving Organization - Dave Logan, John King, and Halee Fischer-Wright
An Introduction to Critical Thinking and Creativity: Think More, Think Better - Joe Y. F. Lau
Jugaad Innovation: Think Frugal, Be Flexible, Generate Breakthrough Growth - Navi Radjou , Jaideep Prabhu , Simone Ahuja , and Kevin Roberts
Seven Brief Lessons on Physics - Carlo Rovelli
My Years with General Motors - Alfred Sloan
How: Why How We Do Anything Means Everything - Dov Seidman
The Silo Effect: The Peril of Expertise and the Promise of Breaking Down Barriers - Gillian Tett
The Fourth Industrial Revolution - Klaus Schwab
Towards the Third Generation University: Managing the University in Transition - J. G. Wissema
It's Not the How or the What but the Who: Succeed by Surrounding Yourself with the Best - Claudio Fernández-Aráoz
The evolution of Strategic Management Theory - Valery Katkalo
Design thinking in Sberbank. Success Stories
Design Thinking - N. Zhuravleva, I. Kuteneva
Cases of the School of Finance programs
Bank Finance
Banking and Finance
Basics of Risk Management
ALM Risk mManagement and Bank Liquidity
Oil and Gas Industry. Industry Directory
Electrical Power Engineering. Industry Directory