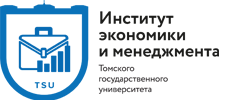 Entrepreneurship discussed at the IEM
A roundtable, The Role of Entrepreneurship in the Sustainable Development of the Region, was held at the TSU Institute of Economics and Management (IEM). How small and medium-sized businesses are developing today and what needs they have and how to satisfy them, were discussed by experts and community members.
The moderator was Vladimir Buev, president of the National Institute for System Studies of Entrepreneurship (Moscow). The event was held as part of the School of Economic Analysis, the Association of Independent Centers of Economic Analysis, with the participation of leading analytical centers and universities of the country.
Viktoria Makoveeva, director of the IEM TSU Entrepreneurship Center, said that in June-October 2019 the TSU Institute of Economics and Management conducted a study of business climate perception in the Tomsk Region based on the GEM methodology (Global Entrepreneurship Monitor, a project of the world's leading business schools on country studies entrepreneurship and information sharing).
The respondents were entrepreneurs, government representatives, and scientists. The goal is to identify measures to increase entrepreneurial activity in the region based on factors affecting its level.
- It was a pilot study and included only an expert survey involving business and experts fr om the Tomsk Region to identify the regional profile of entrepreneurial activity and recommendations for its improvement. Next year, a full study will be carried out, consisting of an expert survey and a survey of the population, which will determine the direction of development of the entrepreneurial ecosystem to increase the level of entrepreneurial activity in the region, said Victoria Makoveeva.
Tatyana Kuklina, manager of the TSU Entrepreneurship Center, said that since last year, a course in entrepreneurship has been launched at TSU. It introduces students to basic business concepts and principles. She also noted the importance of working with high school students:
- Today's schoolchildren have no fear of starting a new project, declaring it. In September, the StartUp Design Academy, based on the IEM, began, aimed at developing the entrepreneurial skills of students in grades 9-11. During the course, we had workshops wh ere participants were able to understand all the stages of creating and promoting a project, and TSU students could realize themselves as mentors and gain experience in project management, organizing events, and working with youth.