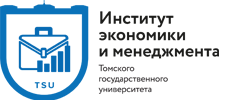 "Greetings from Paris!" - Professor Larçon congratulated the IEM students on the start of the academic year
"Dear students of the International Management program.

On this Day of Knowledge, I would like to congratulate you on your admission to the international program and to wish you a very successful academic year.

At the Institute, you will be able to acquire and grow the knowledge and skills which are necessary to conduct a very successful international management career.

You will learn a lot also and build your network from your colleagues which belong to very different profiles in terms of academic background, language and culture, and business environment. This is really a great opportunity.

I hope you will fully seize the opportunity linked to the very rich academic environment of Tomsk State University.

I hope you will be able also to build contacts with Tomsk society at large, Tomsk business community, and the beautiful Western Siberia natural environment.

Greetings from Paris,

Professor Jean-Paul Larçon"