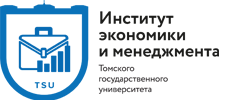 IEM Anniversary: our main achievements over 5 years
IEM is one of the youngest institutes of the TSU, although economic education in the university has existed for almost 125 years. On May 20, 18:00, the IEM Day will be held: the Institute of Economics and management of TSU will celebrate 5 years since its establishment. Despite the fact that it is only our first anniversary, the Institute of Economics and Management already can be proud of its achievements and victories. We have collected the most interesting facts and the most important numbers regarding education, science, students, lecturers, and alumni.

EDUCATION:

1. IEM is the first branch of TSU to implement a new – program-based – educational management principle. In this principle, the central figure is the head of an educational program, and a board of a program provides expert support and feedback from labor market.
2. In IEM, there are many programs to apply: 4 Bachelor's degree programs, 1 specialist degree program, 6 Master's degree programs. PhD studies are represented by 4 scientific specialities, and there is aninternational doctoral program taught in English. Further information at www.iemtsu.info
3. Finance and Accounting in Organizations Master's degree program was once more accredited by the Association of Chartered Certified Accountants (ACCA).
4. An international Board of Guardians was created, which includes representatives of major institutional and academic organizations and companies. The Entrepreneurship Center was opened, aimed at teaching business competencies to students, conditions for promoting new projects, technological and social start-ups were created.
5. IEM is the co-organizer of the annual Economic Dictation and organizer of the Your Global Opportunities: International Perspectives international winter school.
6. IEM successfully realizes further education programs. These programs include 6 professional retraining programs and more than 40 professional development courses. Agribusiness MBA professional retraining program is internationally accredited, and realized under the European Agricultural Universities Association in collaboration with the Wageningen University (Netherlands).

SCIENCE:

1. In 2019, a renewed Dissertation Council on Economic Sciences started its work.
2. Laboratory of Socio-Economic Research was created in the IEM. Group of IEM scientists entered the Laboratory of Human Psychological and Financial Security in the Digital World and will create the Institute of Digital Defender.
3. In 2019, IEM graduate student Vyacheslav Aranzhin received the first Russian Academy of Sciences medal on economics for the best master's thesisin the history of the TSU, and in 2022, he successfully defended his Candidate of Sciences dissertation.
4. IEM employees are co-receivers of more than 15 research grants from Russian Foundation for Basic Research, Russian Science Foundation, and Dmitry Mendeleev Science Foundation.
5. The young scientists and students of IEM TSU have claimed numerous victories in science competitions such as Economic Growth of Russia, I am a Professional, received scholarships of the President of Russia, the Government of the Russian Federation, and Vladimir Potanin Foundation, and won Awards for Science and Education of Tomsk Region.
6. On the IEM's basis regular scientific events take place, such as the Economics through the Eyes of the Young International conference of students and young scientists, All-Russian methodological seminar on issues of teaching economic subjects, traditional Economic Readings, the International Scientific and Practical Conference "Professional Education and Qualification of Appraiser: Modern Requirements and Standards".

STUDENTS:

1. More than 1100 students from 19 countries study at the IEM.
2. In 2021, Maxim Belyakov, 19, the youngest graduate of Tomsk State University, graduated from the IEM with honors.
3. IEM is the only subdivision of the TSU that holds the Mr. and Ms. IEM big annual student talent contest. It is fully organized by the students themselves, they also attract partners and sponsors.
4. In 2021, more than 10 IEM students became Students of the Year in categories such as Volunteering activities, Media Breakthrough, Creative Breakthrough, etc. Our students won the Tomsk HUB regional startup accelerator. They repeatedly won in the Macroeconomics competition, the International Competition in Entrepreneurship and Management, the "Manage!" Management Cup, as well as won in the annual Eurasian Economic Forum for Youth "Russia and the World's Regions: Bringing Ideas and Opportunities to Life".
5. Our students undergo the entrepreneurial internship in TechnoSpark company as a part of the #startupdiploma program.

LECTURERS:

1. 85% of our lecturers have advanced degrees, of them 61% are Candidates of Sciences, 24% are Doctors of Sciences.
2. In 2021, our lecturers successfully defended their doctoral theses: Inna Krakovetskaya, Associate Professor in the Department of Strategic Management and Marketing and Tatiana Pashinskaya, Associate Professor in the Department of Information Technology and Business Analytics. Tatiana Pashinskaya became the youngest Doctor of Sciences.
3. Our lecturers are organizers and co-organizers of various scientific and educational events; participate in conferences of various levels, international projects, internships and academic mobility programs, are members of editorial boards of scientific journals.
4. The IEM lecturers actively conduct expert activities, being members of expert councils of Tomsk Oblast Administration and Tomsk City Administration; they carry out forensic economic expertise.

ALUMNI:

Our alumni, who we are very proud of, work in companies all around the world such as PwC, EY, KPMG, Microsoft, McKinsey, АССА, Unilever, SBER, Gazprombank, VTB, Mikran, SIBAGRO, KDV, Sibirskiy Kedr, Lama, create their own businesses, work in government entities.
On May 20, the IEM Day will take place: the Institute of Economics and Management of TSU will celebrate its 5th anniversary. In TSU Culture Center, a holiday concert and a conference in TED Talks format will be held: the economists and managers will share inspiring ideas and interesting trends. Entrance is free!
We invite you to take part in the celebrations of Institute's 5th anniversary and plan your participation in an event that would take place on May 20.

If you are one of our alumni and are ready to share your experience, become our partner!
To make networking useful for everyone, we would like to ask you to fill in a small alumnus's questionnaire. This will be the beginning of the Alumni Association.