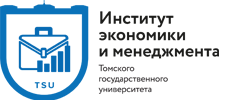 IEM has launched a knowledge asset management program
The TSU Institute of Economics and Management has started the professional development program Management for Key Knowledge Assets for TSU management and teaching staff.
The participants discussed the basic principles of organizations' work in the knowledge economy, key trends in knowledge management, and new formats of knowledge transfer and creation in the course of the educational process, and analyzed the best practices and tools used by leading organizations. One of the objectives of the program is to inventory the existing assets of the university and increase the efficiency of working with knowledge assets. The main result of the training will be a pilot project that will be implemented by the team members.
As Vadim Shiryaev, the program presenter and expert, noted, the world is changing rapidly, and there is a reassessment of what assets and resources of the organization are the most important. The trend of intangible assets replacing tangibles in importance is obvious. And every day the management of knowledge — intangible, reputational, human assets — is becoming increasingly important.
- All TSU activities are related to knowledge. And today the University can not simply improve its activities by introducing modern methods of asset management and realize substantial growth, moving into a new knowledge economy. TSU can become the flagship of the industry in Tomsk, Siberia, and, possibly, in the world. It can be an example for other organizations, - added Vadim Shiryaev.

Victor Dyomin, Vice Rector for Academic Affairs, Director of the IEM, stressed that in a knowledge economy condition, in modern society, Knowledge Asset Management is becoming one of the key elements of the development of any organization, enterprise, institution, and especially auniversity.
- It is especially important to learn how to identify knowledge assets, identify key ones for this process, manage them, and develop them. Therefore, the group includes participants of various processes - educational, scientific, innovative, entrepreneurial, and IP. But this is not all the potential, so it is to continue further development of this area in other processes of the university.

- The starting phase of the project is designed for 6 weeks. Our main task is to build relationships in a team, form a culture of collaboration and decide on exactly how the methodology for managing knowledge assets will be applied at TSU. The next step is to choose a pilot project, and at the following strategic session, to begin its implementation, - stressed the program coach, expert Olga Smirnova.

The advanced training program Management for Key Knowledge Assets was organized by the program office for managers, MBA of IEM, and the TSU Center for Advanced Studies and Retraining.