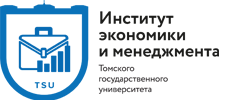 IEM invites you to the economics online winter school
The Institute of Economics and Management invites students from Russia and other countries to the winter online school Your Global Opportunities: International Perspectives. The school will be of interest to those potentially wanting to enroll in a master's program in the International Management program (in English and Chinese).
Study period: January 18-29, 2021
The goal of the school is to acquaint students with topical issues in modern management related to the development and reformatting of business strategies, companies entering new markets, working in free economic zones, using modern marketing tools, building business communications, solving problems and making management decisions, social responsibility of business, and features of doing business with Chinese business partners.
As part of the program, an interactive roundtable is planned with representatives of the international academic and business community on the topic "How do transnational companies react to trade wars and rivalry between great powers?"
The winter school program includes 20 online sessions (2 daily), 1 hour 20 minutes each. Classes will be held on the ZOOM platform in English.
Participation fee: 14,200 rubles
Download the application for participation in the Winter School (below)
You can find additional information in the attached file (below) or
here
The application must be sent to the e-mail address
gk123a@mail.ru
to Evgeniya Kaz (completed scan or photo)
Файлы:

Файл №1

Файл №2