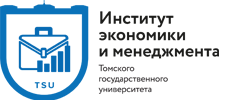 IEM master students from Nigeria, China, Chile, and Uzbekistan researched potential markets for Tomsk companies.
Four International Management master's students fr om Uzbekistan, Nigeria, China, and Chile completed their pre-graduation practice at Tomsk Export Promotion Center. As a result, students presented their marketing research on potential markets for Tomsk companies, as well as a description of current conditions international business in countries that they represent.

Students studied possibilities for export of Russian goods, services, and technological solutions to Uzbekistan, Nigeria, and Chile. The separate task concerned Russia-China institutional cooperation.

Summarizing the practice, director of Export Promotion Center Alexander Belyaev noted that students' work will be extremely useful for strengthening the Center's expert activities, will be included into the analytical reports, and used to preserve the external market activity of Tomsk exporters, especially when planning new routes to expand abroad.

According to Alexander Belyaev, the International Management master's students showed good level of professional training, treated the assigned tasks responsibly and successfully completed them, demonstrated their creativity, ability to work in an international team and, what is extremely important nowadays, to communicate effectively with each other and with their supervisors online.

"During the practice I was able to learn a lot about a new technological idea being developed by specialists from the TSU Biological Institute. Their project "AEROSHUP" is a unique technology of assessment, mapping and cleaning bottom sediments from oil and plastic debris. It has no rivals in both Russia and the rest of the world and may be of interest to many countries. I investigated the possibilities of its application in Chile, wh ere the environmental problems are also very acute. I will be glad if, thanks to my work, the Tomsk team headed by Prof. Vorobyov will be able to find partners in other countries and enter new markets," said the master's student Camilo Andres Sanchez Bozo (Chile).

Hairatbek Hamdamov (Uzbekistan) added, that the practice assignments for him were connected with studying the prospects of developing foreign economic and cultural relations between Tomsk and the largest industrial centers of Uzbekistan (Tashkent and Andizhan). In the current situation, this has very big prospects for both sides, including aspects of attracting young people to come to Tomsk and TSU to study, especially on the master's programs in English.

"Together we were discussing the proposals, coordinating the methods of information search, options of presenting our results. We really learned a lot and managed to "level up" our theoretical knowledge on specific cases," – the student notes.

Adedeji John Adebowale (Nigeria) noted that he liked a lot to take part in a real project and look for options for cooperation between Tomsk businesses in Nigeria. "The companies in Tomsk are very diverse, their goods and services have a high market potential. I am sure it will be in demand by international partners from Africa. I hope I contributed to this process."

Zuo Wenjun (China) said that working on the practice report was very useful to him in terms of professional development.
"I described in detail, how the system of foreign economic activities in China is organized, the official requirements for cooperation with foreign companies, institutional framework for export and import. The study also allowed me to compare how the infrastructure of support for business works in Russia and China," he said.

It is worth noting that the Tomsk Export Promotion Center is actively cooperating with the IEM. For example, annually as a part of the "Promotion on Foreign Markets (Asia-Pacific Region)" course, a webinar takes place. The TEPC staff tell about the Center's work and answer the students' questions.

"I want to thank Alexander Belyaev and his colleagues from the Tomsk Export Promotion Center for paying their attention to our graduate students, for relevant, profound and creative tasks. We hope to continue and develop our cooperation", Olga Nedospasova, Doctor of Economic Sciences, Professor at TSU, head of the International Management master's program.