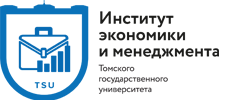 IEM students can get a personal Timur Khismatullin scholarship
The TSU Foundation for the Management of Target Capital with the support of Timur Khismatullin, a graduate of the TSU's Faculty of Economics, a member of the Board of Directors of the Siberian Agrarian Group continues to accept applications for the personal scholarships. The amount of the scholarship is 20 000 rubles. TSU students of the full-time course of study who have "good" and "excellent" marks for the last session can receive it.
The department can also recommend a student to participate in the competition.
The scholarships are assigned to students by order of the Rector. It is based on the applications submitted and reviewed by representatives of the competition commission, confirming the possibility of being nominated for this scholarship. The competition commission with the support of Timur Khismatullin selects 5 winners for the scholarship.
The scholarship is paid once a year and in full in the amount of 20,000 rubles. Applicants should fill in the information card and attach the above documents and accompanying certificates (diplomas and copies) until November 14, 2018. We recommend students to contact the management of the department for help in preparing the documents.

The personal scholarship of Timur Khismatullin, a TSU graduate, a member of the board of directors of the Siberian Agrarian Group, was founded in 2017 and will be paid annually. This is the first time in the history of the University when a scholarship is named after a modern graduate. Financial support is provided from the percentage of the contribution that Timur Khismatullin made to the TSU endowment fund.