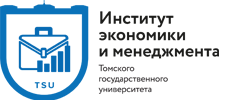 London School of Economics invites you to a webinar on the global labor market
The event will take place on August 5 at 17.00 (Tomsk time).
Registration link:
https://lse.zoom.us/webinar/register/6915948216139/WN_-kxcJVnRRC-gBjNbANcVDg
Career planning today is critical to the long-term success of graduates. The webinar will help participants ponder the steps they need to take to prepare for the global labor market changes.
LSE experts will talk about:
- The global labor market and the implications of the COVID-19 pandemic for the future
- Changes in training and education to prepare for new ways of working
- Training programs that help to think globally
Speakers:
Dr. Francesco Nava, Lecturer in Economics at the LSE
Elizabeth Darlington, Director of LSE Careers
Terence Yu, a graduate of the International EMFSS Program, is currently a Business Development Partner at Salesforce Singapore
Details:
http://www.lse.ac.uk/study-at-lse/uolip
Since 2018, TSU has been recruiting for the exclusive international parallel bachelor's degree program "Business and Management" of the London School of Economics and Political Science, University of London. Students entering the program will receive diplomas from TSU and the University of London.
TSU is the only non-capital university that has the status of a registered Center for International Programs at the University of London.
The world-renowned London School of Economics is part of the elite group of UK institutions of higher education, ranks 2nd in the world (after Harvard University) in the social sciences, and in the QS World Ranking of universities is 38th.
It has been preparing world-class business specialists and managers since 1895.
Details about the program: http://iem.tsu.ru/education/dop-obrazovanie/dop/biznes-i-menedzhment.html