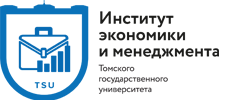 Partners of master program "International Management" told about their work and suggested ideas for student's projects
The master students of the program "International Management" took part in online seminar organized by the Vita Liberta company – a partner of the program. The company is specialized in international consulting and its main field of expertise is support of international business in Russia, China, Kazakhstan and other countries.

The head of the company Sergey Konon told about the specifics of the work in 2022 and formulated topical matters which were proposed to the master students to work out within the course Design Thinking. This matters connected with marketing, client capture and retention, acquiring new markets, promotion of services and updating of the strategy. The students are going to work under the supervision of Vladyslav Ruzckoy (SFU associate professor) and in the end of semester they will present their ideas to Sergey Konon. It is worth to mention that the collaboration with the Vita Liberta company is a potential career opportunity for the students – after working with Design Thinking course Sergey Konon is ready to organize the internship which may result in the employment.

Another seminar was organized by the Tomsk export center. It has already become a traditional event within the course "Foreign market promotion (Asia Pacific Region)" carried by IEM associate professor Irina Pavlova. The Tomsk export center is a long-term partner of the master program, the students participate in its online and offline events annually, visit it with excursions and use its sources for master's theses.

The center's head Aleksandr Belyaev told the students about the specifics of the center's work of supporting small and middle-sized businesses of Tomsk Region in current environment, how the center assists with seeking foreign partners and provides institutional support. He mentioned that the regional companies traditionally are very active on the international market, have rich experience and high potential for international trade development. The expert thoroughly explained the export structure of Tomsk companies and mentioned that Tomsk companies product are widely known in the States of the former Soviet Union, Central Asia, China, Vietnam, Mongolia and other countries.

In the conclusion of the meeting the students asked the questions, including practical ones, for example how a foreign student can start international business in Tomsk.