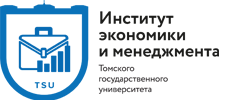 The Career Day in IEM helped students to establish contacts with potential employers
About 150 students and 15 companies gathered at the Institute of Economics and Management on the Career Day. After the presentation of the companies, an open dialogue of students with potential employers took place: many bachelors and undergraduates students left resume and applications for internships and practice. The Institute has decided to resume the event in order to enable both students and partner enterprises to find each other.
Elena Yagina, deputy director of the Employment Center of the city of Tomsk and Tomsk Region said: «Similar events, such a platform where the student meets with the employer directly is very necessary. Our goal is to inform you that there is an employment center that will help you to orient yourself in the labor market and find vacancies. Whether students find something or not, largely depend on personal motivation, for what purpose they come. If they really need a job, they will find it».

The students were especially interested in industrial enterprises. Perhaps, it is because such stands are more visible and represent specific products. Enterprises noted that the students already have sent specific applications for the internship that will be considered. "It is important that the scientific interest of students and the specifics of our work coincide" – says employers.
Natalia Shakhidzhanova, a 1st year Master's student: «I expected to see specific vacancies and to hear what specific requirements the labor market has. We learn business analytics, and here there are many opportunities to work in management and marketing. For our specialty is not so easy to find a place. I come to the conclusion that it is necessary to communicate directly with employers. I already have a clear understanding of what I want. I visit such events not for the first time, and I see that it is very necessary. If you are active: walk, listen, ask, and learn, you will find something appropriate».
Oleg Balov, a 1st year Master's student: «I'm studying on the Business Analytics program, and I expected that there will be a Sibur on the Career Day. They have a vacancy that intersects with our program. I wanted to find out how much our program is suitable and whether I can practice with the prospect of finding a job. I have already decided and I am confident that my future work will be connected with analytics».