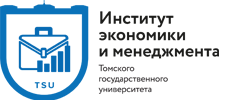 The first group of enterprise employees was trained at the IEM on the national project
20 employees of Agrarian Meat Processing Group JSC and LLC Tomlesdrev completed training under the program Automation of Business Processes through Office Technologies within the framework of the national project "Labor Productivity and Employment Support" and received certificates from the National Research Tomsk State University for advanced training. The training was held at the Institute of Economics and Management.
Tomsk Region was among the regions implementing the national project since January 1, 2019. Its essence is the annual professional development of 500 employees of regional organizations who will introduce innovations in the technological process.
Under the program Automation of Business Processes through Office Technologies, participants mastered the skills of the visual design of projects, work with data arrays
in
different editors, the main elements of computer program interfaces. The training took place over two weeks.
The program was led by Yaroslav Lopukhin, a senior lecturer at the IEM Department of Information Technology and Business Intelligence. According to him, production losses come mainly from the inefficient use of information technology. To avoid them, we must boldly work with office technologies, and above all with Word and Excel.
As Irada Magaeva, director of the IEM office of programs for managers, MBA, noted earlier, participation in the national project is an excellent opportunity for universities and their departments in terms of expanding their portfolio of programs, strengthening their expertise, and building up expert potential. Simultaneously with the
automation
program, training on the program Management of Logistic Systems and Processes for employees of the Tomsk poultry farm
started
at IEM TSU. Soon, training on new programs will begin, since the TSU IEM became the winner of several auctions on the national project.
For reference: under the national project, the Tomsk Employment Service plans to annually train, retrain or upgrade qualifications for at least 500 employees of enterprises. Training costs are compensated by the state. Areas of study - working (related) professions, applied information technologies, production competencies by profile, project management, the basics of automation, the basics of lean manufacturing, and others. By 2024, the number of trained should be 10 % or more of all employees of the organizations participating in the project.