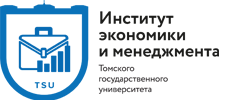 The IEM Academic Council has approved the candidates of the heads of two departments
On March 14, a meeting of the Academic Council was held at IEM TSU. At this meeting, the results of the competition for the positions of heads of two departments were summed up. Candidates were re-elected unanimously: Evgenia Nekhoda to the position of head of the Department of Strategic Management and Marketing, and Dmitry Khloptsov again became the head of the Department of Property Valuation and Management.
During the meeting, the detailed results of the departments' work and development plans for the coming years were presented.