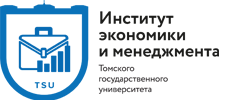 The IEM PR service became a nominee for "Press Service 2022" award in the "Press Tribe" competition
The Tomsk Regional Department of the Union of Journalists of Russia summarized the results of XIX Annual Journalist Competition "Press Tribe 2022".

There were 115 collective and 59 individual applications to the competition. In the "Press Service of the Year" category 3 applicants have been chosen, and among those were the Press Service of IEM, Tomsk city administration and play park "Quantorium".
The winners will be known on Friday, December 15th, during the awards ceremony in the Centre of Science of the Academic Town.


The IEM Press Service was established in 2016 when the resources of the Faculty of Economics, Graduate School of Business and International School of Management were combined together. Its head – a journalist, Cand. Sc., Anna Yaroslavtceva, the deputy is a journalist Ekaterina Krivolapova. This year the Press Service realized an ambitious project of IEM's 5 Years Anniversary, where besides a concert a TEDx Conference took place where some inspirational ideas were shared by famous economists and managers: the Tomsk Duma Speaker Chingiz Akataev, the "Palex" company founder Pavek Koshak, the head of Tomsk department of "BKS-Premier" Vladislav Alekseevskiy and others. Also the award "Serving IEM" has been established and granted the first time for the students, graduates and professors.

The Press Service regularly covers the activity of the IEM, telling about the important researches of the scientists, new initiatives and victories of the IEM workers and entrepreneurial projects of the students.