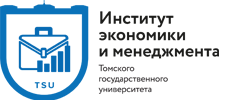 The TSU Endowment Fund has given grants and prizes to IEM students
During the special session of the
TSU Endowment Fund
the chair of the Fund and the president of TSU Georgiy Mayer recognized the active and efficient TSU students, among whom are five students of IEM who won Larisa Grinkevich's grant. Darya Pisarenko also won the Timur Hismatullin's grant. One of the winners Ivan Meshalkin was also distinguished by the Fund as a winner of the board game "Endowment". The game is this year innovation developed by the MIPT and purchased by the Fund to increase the popularity among students. There were 13 games during the semester, more than 50 students participated.
TSU was established by the outstanding leaders and philanthropists, Georgiy Mayer says. And you are going to become like them! The goal of TSU is not just training a professional but also a personality.
The Fund was established in 2010, the director Marya Buligina told the students. More than 300 students got it's grants according to different programs. Our main task is to support the main capital of TSU – the students.
Marya Buligina also told that the endowment capital allows to finance different projects in the long-term. Three endowment capitals have already been formed and one is being currently developed.
The Fund distinguish the students in six different fields. The IEM students won the grants in two programs. Artem Vyalov, Polina Deniskina, Ivan Meshalkin, Darya Pisarenko and Polina Udovichenko won the Larisa Grinkevich grant who was the Fund's director from 2021 to 2019. The grant was established to stimulate not only the IEM students, but those carrying out public and volunteer work within the framework of TSU as well as outside the University. There are 13 winners of the grant, among those are five IEM students
Darya Pisarenko also won the Timur Hismatullin's grant which is established to support the social studies.
The grant winner Polina Deniskina in May developed the
unofficial symbol of the Fund
– the crane picture.