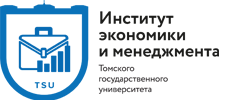 Tomsk students will have an internship in the best Russian TechnoSpark
A business intensive on technology entrepreneurship enabled Tomsk students to get an internship in the best technology park in the country.

Students of two Tomsk universities took part in the business game "Build a Сompany. Sell a Сompany", which is a simulator of technological entrepreneurship. Each such game is a qualifying stage for the entrepreneurial practice #start-up diploma. The project finalists are TSU and TPU students who will master the competencies of a builder of a new business in high-tech startups of the TechnoSpark Group of Companies.

The first stage of the new season's game took place in December 2019, and more than 150 people registered. Not everyone reached the final, as usually happens: on average, the most successful participants are up to 50%. However, the spring game turned out to be more intensive, and a larger number of students took part in the last stage of the game.

At TSU, the project is overseen by the Center for Entrepreneurship of the Institute of Economics and Management (IEM).

Zakhar Mostipan, a second-year student at the IEM TSU, came to his second game in a row - despite the fact that he was one of the winners of the previous event. This decision, Zakhar explains, represents his desire to gain as much experience in entrepreneurial activity as possible. Moreover, those who will get an internship at TechnoSpark will be selected based on the results of the interview, and you need to show yourself well there.

- Like the last time, I decided to stay in the role of an entrepreneur. The experience of the first game, of course, helped, but this time it was much more difficult. I quickly found workers, made money, started investing it in the company, but in vain - there was no return. But I already knew what to do and went to another company. Thanks to the new "fellow engineers", they also did a good job, and only our team was able to produce 12 examples of structures for sale. Moreover, they were made in the last five minutes. This is a very good result, - said Zakhar Mostipan.

The game "Build a Сompany. Sell a Сompany " may be useful not only for those who want to have #startupdiploma practice. In fact, this is an educational intensive that helps to learn the nuances of economic and entrepreneurial activity. For 10 intensive hours, which includes a scenario that has been implemented in real life over the years, game participants will be able to try on the role of technology entrepreneurs and test themselves for interest, self-motivation, discipline, and perseverance. And in the future, in practice, they will have to plan their own and other people's activities, conduct deep technological and business analysis, initiate and conduct business meetings, make investment calculations, because all the money in startups is repayable, and much more.