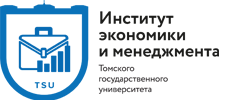 Training teachers of economics of Siberian universities is a new stage of collaboration between the IEM TSU and the Yegor Gaidar Foundation
The TSU Institute of Economics and Management has started a unique
for
Russia program of professional retraining for the teachers of economics for non-economic specialties, implemented by the Yegor Gaidar Foundation. Today, in partnership with MSU and TSU, the program started for teachers of Siberian universities. In the next two weeks, 43 teachers of the largest Siberian universities from Tomsk, Novosibirsk, Kemerovo, Krasnoyarsk, Omsk will undergo the first stage of training under the new program of professional retraining.
- The initiators of the program were colleagues from the TSU Institute of Economics and Management, - said Natalia Yablonskene, director of the Yegor Gaidar Foundation educational projects. For this course, Moscow State University has prepared a unique program: its value is in the new content that teachers of economics working with students of various specialties can fill their curricula. Now, wonderful specialists from all over Siberia have gathered at TSU - those who believe in the need to form an economic culture for all students, regardless of their future profession, and are ready to do it.
- We constantly focus on the need to improve the programs of disciplines taking into account modern trends in economic development and areas of student training, - said Victoria Makoveeva, deputy director of the IEM. - So the idea of implementing a program for teachers not only of the Institute of Economics and Management but also of the leading universities of Siberia appeared. Training in the program will be a kind of start for the formation and development of the professional community of teachers of economics who work in universities of the Siberian Federal District. This will help to share teaching experience, developing teaching materials, e-courses together, and developing joint scientific activities, holding conferences, and other events.