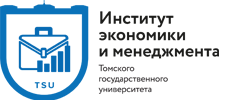 TSU and TechnoSpark are launching a program for startupers
TSU will be the first of Russian universities to conduct a business game, following which 10 senior students will be able to independently launch a technology startup in the TechnoSpark group of companies. This is a part of the Startup Experience internship program, the final of which will be the defense of graduation qualification work based on startup results. The qualifying game will be held on March, 5 from 10.00 at the TSU Institute of Economics and Management. The event is organized by the IEM TSU Center for Entrepreneurship.
The program will start work already in the next academic year: on September 1, 10 TSU senior students will have to start launching startups. They will be selected on the basis of the results of an entrepreneurial simulator - the business game "Build the Company. Sell the Company" that will be held in two stages. The first stage will take place on March, 5 and April, 9. The best players will pass to the final and will meet on May, 17.

Ten university students, who showed entrepreneurial qualities in a specially organized selection, will be able to get into a 9-month practice in TechnoSpark and its partners and master a unique competence of the builder of the new technology business. They will try to launch a startup in one of the hardware industries of the future: robotics, photovoltaics, power engineering, microelectronics, genomics, personalized medicine, new materials, unmanned vehicles, and others. According to the results of the practice, students will be able to defend the final qualifying work, presenting in it the successes and failures of work on creating a new startup.
The intern will be given access to the TekhnoSpark's professional ecosystem: contract manufacturing, industrial designers, technologists, and other types of technological services. In addition, students will receive a salary of 20,000 rubles per month to cover current personal expenses and they will be provided with accommodation. The internship will be held at one of the TehnoSpark nanotechnology centers in Novosibirsk, Kazan, Ulyanovsk, Saransk, Dubna, or Gatchina Students of any specialty can take part in the program. The main thing for applicants is the willingness to engage in entrepreneurship and take the corresponding risks. TSU will develop an individual educational trajectory for each winner.