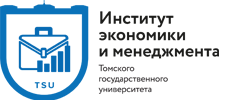 TSU students can write an essay about economics in the genre of science fiction and get to the "Digital Party"
We invite students, graduate students, and young scientists to take part in the All-Russian competition of sci-fi and creative ideas "Digital Future of the Economy" and visit the "Digital Party 2020".
Participation in the competition is free.
The general topic is "Digital Future of the Economy".
Format: essay.
Genre: science fiction.
It describes fictional technologies and scientific discoveries, contacts with non-human intelligence, a possible future or an alternative course of history, and the impact of these assumptions on human society and personality.
The competition provides an opportunity to demonstrate the ability of creative and logical thinking in solving modern problems related to the processes of digital transformation in the economy.
The winners will receive valuable prizes and diplomas of the all-Russian project "Digital Party".
Acceptance dates: 20.09.2020 – 20.10.2020
Applications and work are accepted by email:
digital_future2020@mail.ru
For additional information, please contact Elena Pyatina:
pyatina_digital-future@mail.ru