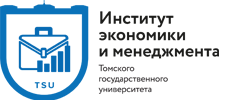 TSU teachers will develop an advanced training program on new educational technologies for colleagues
Eight IEM lecturers have completed training under the Innovative Educational Technologies program of Sberbank Corporate University. In total, 42 representatives of various TSU faculties and institutes underwent the training. The result will be the creation of their own program of professional development. In May, the draft of the new advanced training program will be submitted to the methodological council of the university. Over the next month and a half, the first group of employees will undergo pilot training.
The commission that evaluated the course participants' projects included representatives of the Corporate University and the Tomsk branch of Sberbank, Eduard Galazhinsky, the TSU Rector, and Victor Dyomin, Vice-Rector for Academic Affairs.
- There were a lot of interesting educational technologies on the course,- says Victoria Makoveeva, deputy director of the IEM TSU. - Of course, it is impossible to use all the technologies in one course. It is important to show teachers what opportunities there are to teach new ones. For example, we got acquainted with the assessment service of knowledge gained by students: in the application, we score questions, students answer via mobile phone - there is an interesting game moment here. The issues of gamification of the educational process, technologies of blended and flipped learning, social learning and social networks, business simulations, and much more were discussed. Each teacher will be able to choose for themselves the appropriate technology. Of course, it will take time to study, master, implement, and refine the existing courses.
Four groups of teachers were involved in designing of the new program; their task was innovative teaching technologies: new approaches to pedagogical design and blended learning using online tools and services, social learning ("everyone teaches everyone"), personalization technologies and gamification of the educational process, and the formation of a modern educational content. Two other groups presented case studies - the Educational Core of Bachelor's and the Entrepreneurship course, which demonstrate how new technologies are integrated into the educational process of the university.
- For two months, our group went through full-time immersion training on the basis of the Sberbank Corporate University,- says Svetlana Veledinskaya, director of the Center for Advanced Studies and Retraining of TSU. - We also had the opportunity to test social learning technologies on the InSberra portal, to gain experience in adaptive testing and team design work. Educational technologies are improving, developing, and the students themselves are becoming different - new generations are very different from the previous ones. A modern university is obliged to take into account all these circumstances, to flexibly adjust the learning process to changes. Of course, it is necessary to do this carefully, preserving the best university traditions.