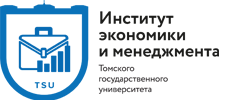 Victor Dyomin
Candidate of Physical and Mathematical Sciences
---
Chairman of the Academic Council
Associate Professor of the Department of Optoelectronic Systems and Remote Sensing of the Faculty of Radiophysics
Candidate of Physical and Mathematical Sciences
1980 - Graduated from the TSU's Faculty of Radiophysics
From 1981 to 1983 - Assistant at the Department of Radiophysics,
1986 - Senior Teacher
1989 - Assistant Professor of the Department of Optoelectronic Systems and Remote Sensing
From 2001 to 2014 – Dean of the Faculty of Radiophysics.
January 2014 - TSU Vice-Rector for Academic Affairs.
Head of numerous scientific projects, including:
- Radiophysical and optical methods for studying the environment of Western Siberia, including subarctic and arctic regions;
- Development of radiophysical, optical and ultrasonic methods, equipment and software for integrated environmental studies
- Complex studies of climate-forming factors and processes in the neutral atmosphere and ionosphere by optical and radiophysical methods, and others.