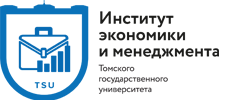 Evgenya Nekhoda
Doctor of Economic Sciences, professor
---
Evgenia Nekhoda graduated from the TSU Faculty of Economics with a degree in Industrial Planning in 1985, she has been working at the University since 1995. She conducts classes with bachelors, undergraduate, and graduate students, and students of the Presidential program of management training. Under her leadership 6 Candidates of Economic Sciences defended. The department's research projects are actively supported by contracts and grants, and the practice of the unit for the implementation of additional education programs is very successful. She has extensive experience in practical and consulting activities at Tomsk enterprises.
She is the author of more than 150 scientific and educational works.
She was awarded the medal For Valiant Labor at Tomsk State University second degree and the medal For Services to TSU.
Scientific secretary of the dissertation council D 212.267.11 in Tomsk State University of Economic Sciences.
Research Interests: modern problems of labor economics, social policy, and business responsibility.