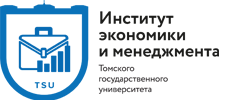 Eduard V. Galazhinskiy
---
Rector
Doctor of Psychology, Professor, full member of the Russian Academy of Education
He graduated from the Faculty of History of Tomsk State University (1990), received additional professional education in psychology at Saint Petersburg State University (1992).
1998 - Director of the Center for Social and Psychological Education of TSU.
1999 - Deputy Dean for Academic Affairs
2005 - 2012 - Dean of the Faculty of Psychology.
2013 - the first Vice-Rector of TSU and executive director of the Development Program of Tomsk State University for 2010-2019.
The head of the working group for the preparation of the Program for Enhancing the Competitiveness of TSU among the world's leading research and educational centers.
November 21, 2013 – the Rector of TSU.
Under his leadership TSU successfully participates in the program of increasing international competitiveness.
Chairman of the Tomsk Regional Branch of the All-Russian Public Organization Russian Geographical Society; an expert in the scientific and technical sphere (the federal register of experts of the Ministry of Education and Science of the Russian Federation); a member of the Interdepartmental Council for the award of prizes of the Government of the Russian Federation in science and technology; member of the Council for the implementation of programs for the development of core universities, which are of key importance for the industrial and socio-economic development of the constituent entities of the Russian Federation; Member of the Presidium of the Russian Academy of Education (RAO); member of the Presidium of the Russian Psychological Society (RPO); member of the expert council of the RGNF-region; member of the Council for the implementation of the project for the creation in Tomsk Region of the Center for Education, Research and Development of the Legislative Duma of Tomsk Region, created within the framework of the "INO - Tomsk'2020" project.
Head of numerous projects supported by leading Russian scientific foundations and federal target programs and noted at international exhibitions and educational forums.