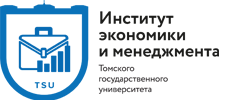 IEM scientists finished the first stage of the grant for steady development of territories in regional context
The first stage of the grant project "steady development of territories: an imperative of unity of economic, social and ecological missions" has been accomplished with the participation of four IEM scientists. Its result – the research "Regional investments in innovation and ecology print" where the scientist studied how the innovation affects environment pollution
The group consisting of 8 people (5 from TSU and 3 - TPU) started working on the grant in 2022. IEM in the project is represented by
the Director, Doctor of Economic Sciences, professor Evgenya Nekhoda
, assistant of Department of Government and Public Management Irina Gammershmidt, junior research associates Vyatcheslav Arangin and Ekaterina Akerman. The grant's duration is two years as the result of the research 10 scientific articles will be published.
Steady development based on the integration of economic, social and ecological goals attracts the attention of researches at companies level, Evhenya Nekhoda tells. But on the regional level the problem is poorly observed. The steady development is achieved by simultaneous achieving economic, social and ecological goals in the territory improvement, whether it's a region or a municipal district.

The research "Regional investments in innovation and ecology print" carried out within the project is based on the classification of economy by factors, effectiveness and innovations (Global Competitiveness Report, 2002). In Russian regions there are all three types of economies, this is why the level of economic development was considered in the prognosis of the correlation between innovations and pollution level.
The results show that connection between research and innovation intensity and pollution level depends on a particular context: in the regional economies based on natural resources the investments of regional companies into the researches increase the pollution, Irina Gammershmidt tells. This connection is especially pronounced in the regions with low PCI and lack of university graduates and with high level of export in economy. Accordingly, the connection is weaker in the rich regions with plenty of university graduates and especially weak in the regions with low level of export.
The research results confirm that economic and ecological goals of steady development are often contradict each other at least in developing natural-resource-based economies. It should be considered in development policy to guarantee that the growth of economy won't harm the country ecology.
In the nearest future the scientists are planning to rate the region accordingly to their steady development. By the end of the year 4 articles will have been published in Q1, WOS and Scopus magazines.